Pelvic floor exercise aids Phase I active
Promotes sensation, development and active control of weakened pelvic floor muscles
Weakened or overstretched pelvic floor muscles are often the cause of bladder weakness. Due to the stresses of pregnancy and birth, and also due to hormonal changes during the menopause, the muscles of the pelvic floor become slack, which means that they can no longer fulfil their usual functions. This can be tackled naturally through targeted exercise with the ELANEE pelvic floor exercise aids Phase I active. The set comprises 4 cones of different weights which facilitate active exercise and help to develop the pelvic floor muscles gradually. As part of the exercise, a cone is inserted into the vagina and left inside for up to 10 minutes, two times a day.
DESCRIPTION
Contents:
4 tampon-shaped cones with a different colour and weights:
yellow (20 g), blue (28 g), green (52 g), pink (71 g)
Leaflet of exercises
Instructions for use
Pharmaceutical registration number (PZN): 11561931
AREAS OF APPLICATION
An active training with pelvic floor training aids makes sense for women of all ages:
It is used during pregnancy and after birth to prevent weaknesses of the pelvic floor and facilitate regeneration.
for reducing, eliminating and preventing urinary incontinence (due to load/stress incontinence) in women, particularly during the climacteric period and menopause.
The wearing of cervical caps, contraceptive rings, diaphragms or intrauterine devices during training are possible.
FUNCTIONALITY
The ELANEE Pelvic Floor Training Aids Phase I active consists of a set of four different weights that enable active pelvic floor training with the biofeedback phenomenon. The biofeedback phenomenon is based on the fact that the cone slides out of the vagina through its own weight.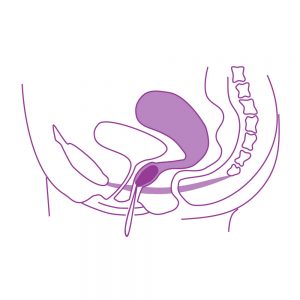 The pelvic floor muscles react actively to this by spontaneously and autonomously contracting repeatedly in order to hold the weight. These repeated active contractions ensure muscle development – just like training muscles with weights. Four different weights in the kit enable you to increase active exercise intensity. The training weight is increased if the muscles can hold a cone with ease. In this way a huge increase can be achieved from the lightest to the heaviest weight.
MATERIAL AND CLEANING
The ELANEE Pelvic Floor Training Aids Phase I active consist of an aluminium or steel core coated with polypropylene a polyamide yarn coated with polyurethane.
Clean the training aids after each use with warm water and soap or disinfect the cone with a commercially available skin disinfectant. Before  being used again, any possible soap residue or disinfectants should be thoroughly rinsed off the training aids with water. The ELANEE Pelvic Floor Training Aids Phase I active can be disposed of as standard domestic waste.