Breast massage device
For breast massage during pregnancy and breastfeeding period
Short & compact
For loosening the breast tissue in case of hardening and for stimulating the milk flow during breastfeeding
Vibrating massager with 6 different program levels
Device shape optimally adapted to the breast – also ideal for insertion into the bra
Simple massage through circular or stroking movements
Electric device incl. USB charging cable and storage bag
Product information
The ELANEE breast massager is used to loosen breast tissue in case of hardening and to stimulate milk flow during breastfeeding. Also already during pregnancy, when the breasts start to pull and tighten, a massage with the device is very pleasant.
The device has 6 different program levels. Thus, the intensity and vibration rhythm can be varied as desired. The instruction manual contains three different recommendations for breast massage including graphics and descriptions. In addition to an active massage with circular or stroking movements, the vibrating massager can alternatively be placed in the bra. This leaves the hands free. The duration of the massage is adjusted to the personal well-being.
The breast massager comes with a USB charging cable and a storage pouch.
Pharmacy Central Number (PZN): 14312594
Areas of Application
The breast massager is suitable:
For massaging and promoting blood flow to the breast tissue.
To stimulate the flow of milk
To loosen hardenings
Further information & tips
How to switch the device on and off?
The on/off switch is located centrally on the top of the device. To switch it on and off, it must be pressed for at least 5 seconds.
How to change the program level?
To change the program level, briefly press the button for switching the device on and off.
What are the prog
Programm 1: durchgängig leicht
Program 2: medium throughout
Program 3: consistently strong
Program 4: pulsating light
Program 5: pulsating medium
Program 6: pulsating strong
How to massage the breast with the device?
There are several ways to massage with our breast massager:
Place the device at the top of the breast and stroke from top to bottom to the nipple
Place the device at the top of the breast and stroke it in a circular motion to the nipple
Place the device on the underside of the chest and stroke from left to right
Insert the device into the bra and let it massage without active movements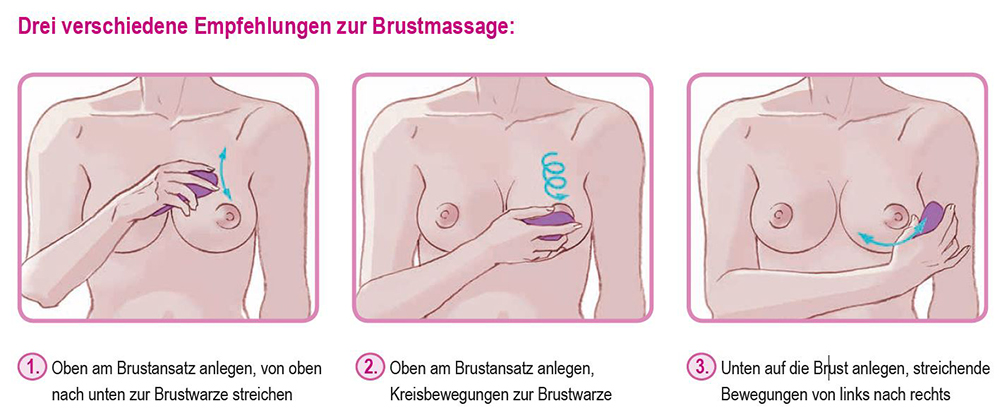 How to charge the breast massager?
A USB charging cable is included with the product. To charge, the DC plug must be inserted into the opening on the device (see page 6 of the instructions for use) and the USB plug must be connected to the power source (adapter for the wall socket or connection to the computer).
Notice: Before first use, the device must be fully charged.
How to clean the breast massager?
The device can be cleaned with a damp cloth.
Do I have a right to warranty when I buy the breast massager?
We provide 2 years warranty from the date of purchase for material and manufacturing defects. More about warranty and service can be found in the user manual.
Material & Cleaning
The ELANEE breast massager is made of:
Polysiloxane (silicone without phthalates)
Silicon dioxide
Platinum complex
The device should only be cleaned with a damp cloth.
If the USB charging cable connectors become dirty, clean them with a damp cloth only as well.